The patented e-breathe cleanroom hood is designed to reduce the concentration of airborne particles emitted by humans in the cleanroom. Unlike systems designed as respiratory protection systems, this one is not based on a positive pressure principle but on a negative pressure principle. This means that fresh, filtered air is not transported into the hood, but that air is continuously extracted from the hood. Thanks to the large particle fleece integrated in the upper part of the hood, air from the clean room enters the hood from above. This air passes by the employee's face and respiratory organs and is then extracted via the hose.
In this way, the contaminated exhaled air and the particles emitted by the human being pass in a predetermined manner to the P3 particle filter attached to the blower unit, through which they are then filtered and released back into the clean room. The filter efficiency of this filter is 99.9993% for particles smaller than 0.07 micron.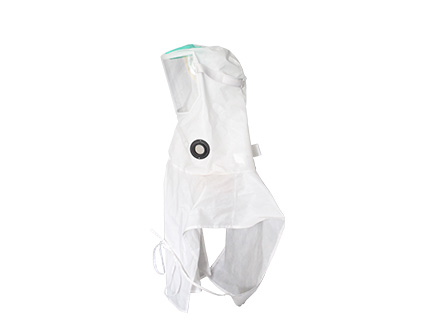 Head Area
On the top of the hood is a particle filter through which outside air is drawn into the hood.
Forehead Band
Fixes the hood and forms the visor. The soft forehead band ensures a high degree of comfort.
PC Visor
Supplied flat, without unwanted creases. Ergonomically formed for an unrestricted field of vision.
Breathing Air Hosepipe
Is securely attached to the hood via a special clip.
Exhaled Air
The exhaled air is sucked out via a P3 filter and discharged into the surrounding air.
Blower Motor
Is used inversely so that an under-pressure in the hood is created. Thus the exhaled air is expelled and new air can be drawn in via the P3 fleece filter.
| | |
| --- | --- |
| Country of Production: | Europe |
| Approvals: | Approved according to EN 12941 |
| Air source: | Smartblower |
| Protection Class: | Product Protection |
| Airflow: | 140 l/min |
| Hose Connection: | Special |
| Temperature range: | -10°C bis +40°C <70% RH |
| Weight: | 150g |
| Material Limited-Use: | Polysafe |
For more information, please see our

product catalog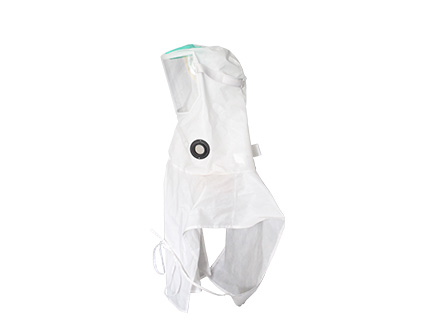 Art. No. upon request
e-breathe Cleanroom Hood
Limited-Use