The patented Clean Room hood is supplied in double sterile packaging. Surrounding air is drawn in through a P3 felt or through an odor filter. The contaminated expelled air is drawn out through a blower motor and released into the surrounding air via a P3 Filter.
The hood is supplied with a disposable, sterile connecting pipe and is individually adjustable to any user. The hood offers a maximum of product safety together with a high degree of comfort.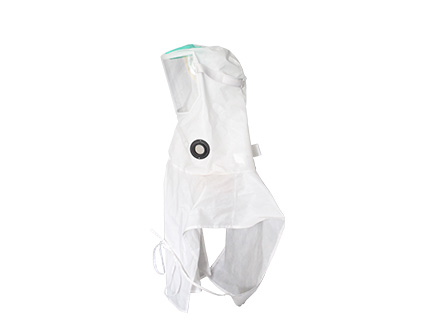 Head Area
On the top of the hood is a particle filter through which outside air is drawn into the hood.
Forehead Band
Fixes the hood and forms the visor. The soft forehead band ensures a high degree of comfort.
PC Visor
Supplied flat, without unwanted creases. Ergonomically formed for an unrestricted field of vision.
Breathing Air Hosepipe
Is securely attached to the hood via a special clip.
Exhaled Air
The exhaled air is sucked out via a P3 filter and discharged into the surrounding air.
Blower Motor
Is used inversely so that an under-pressure in the hood is created. Thus the exhaled air is expelled and new air can be drawn in via the P3 fleece filter.
| | |
| --- | --- |
| Country of Production: | Europe |
| Approvals: | Approved according to EN 12941 |
| Air source: | Smartblower |
| Protection Class: | Product Protection |
| Airflow: | 140 l/min |
| Hose Connection: | Special |
| Temperature range: | -10°C bis +40°C <70% RH |
| Weight: | 150g |
| Material Limited-Use: | Polysafe |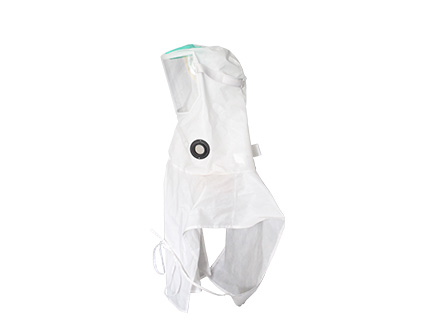 Art. No. upon request
e-breathe Cleanroom Hood
Limited-Use